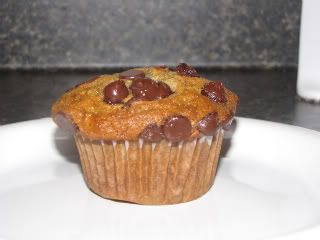 Friday is a different sort of day for us. Since we are 4 day a week, year round homeschoolers, Friday's typically do not have any written school work if the week went as planned. If not, then Lainey has to finish the work for the week. We've done pretty well at keeping everything on track and I think we've only had to do written school work on one Friday in the last six weeks.
I also use Fridays to catch up on housework and do some planning.
But the tradition is for me to bake something on Friday. Today I whipped up Chocolate Chip Banana Muffins. The girls literally jumped up and down when they saw the 3 bananas defrosting on the counter. (I freeze the bananas when they get over ripe specifically for this recipe.)
Here is the recipe, at the bottom I've noted what I do differently and how I make this a speedy process.
Ingredients:
1.5 cups flour
1 cup sugar
1 teaspoon baking soda
1 teaspoon salt
1 egg
1/2 cup Miracle Whip or Mayonnaise
3 ripe bananas
1 cup chocolate chips
Instructions:
1. In a large bowl, combine dry flour, sugar, baking soda and salt.
2. In a medium bowl, beat the egg and add mayonnaise. Add dry ingredients and stir until moistened.
3. Fill paper lined muffin tins 3/4 full. Sprinkle tops with chocolate chips. Bake at 375 degrees for 20-25 minutes. Test muffins with a toothpick.
Changes:
I've substituted sour cream instead of mayo when I was out. I typically use very cheap mayo for this since you cannot taste it. Sometimes I leave the chocolate chips off of the top. My aunt likes to put nuts in the mixture. Oh and I don't measure the chocolate chips. I take a handful and sprinkle them on until they look good. I never get 12 muffins as my yield since I fill the muffins a bit more than I should.
Make it fast tip:
I measure out the dry ingredients (flour, sugar, baking soda and salt) for several batches of muffins at a time. I put the ingredients in ziploc bags and store them in a tub. To make the muffins, I mash the banana, add the mayo and then dump the dry ingredients in the bowl, stir and continue. I put the ziploc baggie back in the tub for the next time I measure out several batches. This method makes less dishes since I have no measuring spoons or cups each time and it saves time, since I'm not having to pull everything out and measure.
Rating:
This recipe gets two thumbs up from each of us. The muffins turn out moist and yummy! I make them on Fridays because that is the end of the shopping week, so any overripe bananas get used up. They are perfect for breakfast, a snack or dessert. If they make it to Sunday (a rare event) we can eat them easily before church.