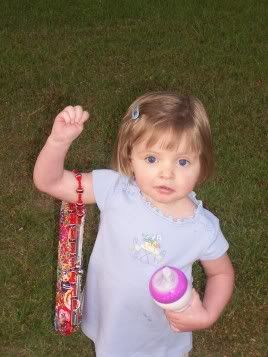 (One of my very favorite pictures of Lainey. She carried that gaudy purse everywhere she went when she was two years old. We were headed to dinner. Now I smile when I see that purse in our pictures.)
Lainey turns 10 today at 4:48 pm marking a decade in this parenting gig. It has felt like a zillion years and a blink of an eye all at once. *sniff, sniff*
So I figured I'd share some of the things I've learned as I've walked the parenting road the last 10 years. I still have so very much to learn. Let's face it, I'm only about a third of the way through this journey.. I have 17.5 years until Isaiah, our current youngest, will be 18.
1. This journey is not going to be like you imagined. I think every parent imagines the sunshine and rainbows part of parenting. I'll fess up right here and say that I was a "kid person" before children and it still was not like I imagined. The morning sickness, the multiple bedrests, the heartbreak I had to walk to even create our family... nothing was like I imagined.
I also didn't realize how much bigger the good parts would be. Teaching Lainey to read, potty training success, tiny hugs, gentle kisses, the way I beam as I watch my babies sleep. It is all so much better than I imagined.
2. The journey is worth it. Some days, I really get down and start to believe lies whispered into my ear. This journey is worth it.
3.
Good enough is good enough.
No one can maintain perfection for very long and stay happy and sane. For so long, I did everything I could for things to appear perfect. I talked about it a bit in our
Disney World post
. Some things only have to be done to good enough. Decide for yourself what those will be and spend that extra time and energy on something where good enough, isn't.
4. Don't take yourself so seriously. Raising children is serious business. You are shaping lives. But don't stay wound so tight that you can't laugh, smile and be silly. Cracking a few jokes, having a good laugh at something that tickles your funny bone... that is the stuff that memories are made of.
5. Slow down. I know the minutes, hours, days and weeks feel long. The seasons are short though. These past 10 years have flown by. No one ever regrets taking time to slow down and enjoy their children. I've heard several elderly people discuss their regrets, and I've never, ever heard someone say, "I wish I colored less with my children." Or "I wish I talked less to my children." Slow down. Soon it will all be a blur.
6. Have a vision, but understand it will morph. We started with a vision of what we wanted our family to be. And some of the things we do almost exactly like we imagined. Some things have less importance than what we imagined. Some things were unaddressed in our original vision. And sometimes God threw us a curveball that changed almost everything.
7.
Follow your gut.
If you look in any bookstore in the parenting section you will find a plethora of books with vastly different theories. Then well meaning people offer a zillion bits of advice. If you try to follow it all, you will drive yourself mad. What sounds good might not work for you. I am convinced that the small voice that you hear in the quiet moments is sent by God. Don't tune that voice out. It will guide you and
may even save your child's life one day.
8. Realize that there are no perfect parents. As we spend our time in the trenches, it is soooo easy to convince ourselves that we are the only imperfect parents in the world. Don't believe this! If you were to sit down with a well respected person in your life, that is a parent (not necessarily your parent) ask them if they felt like they were a perfect parent. It will be eye opening.
~Stephanie